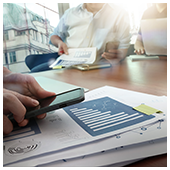 The prevalence of digital data has become an integral part of life and business in modern times. Staggering amounts of data is generated every day and businesses have grown exponentially as they've found ways to monetize it. In fact, most experts agree that by the year 2020, there will be 1.7 terabytes of data generated per person on the planet. But in the here and now, we're already struggling to keep data backed up and safe.
Too much data may sound like a good thing, but depending on your organization, backing up everything à la minute may be out of your price range or just flat out impossible with the amount of information you create. The problem then becomes: How do I structure my backup plan to prioritize the critical files? We believe the answer is analytics.
In order to avoid backing up unneeded data, you'll require a "smarter" backup solution. This is where an experienced MSP (managed services provider) really earns its keep. We've spent years becoming experts in backup solutions and designing systems that keep your mission-critical data healthy, and we can offer something few others can't: a backup solution that learns.
The first step in ensuring all of your customer information is safely duplicated and quarantined is to install sophisticated analytics engines that help determine what is most essential to your business's day-to-day operations. These ever-evolving engines will prioritize data in order of importance and translate that to a backup structure that ensures the right data is safe and sound should disaster strike.
Using analytics maintains your existing data-backup solution, but provides it with a map of what to save first, and what to leave for later. What does that mean? Drastically reduced recovery times in the event of untimely outages or disruptions. And, the use of analytics also helps increase efficiency and decrease overall backup costs by providing a better picture of what is unimportant or unnecessary.
Small- and medium-sized businesses have been the drivers of innovation for decades because, as they say, "necessity is the mother of invention." And we're here to deliver some good news: Whether you're interested in implementing a cutting-edge analytics engine or simply want to start with a more straightforward solution, we're ready to create a new system that prioritizes backups, just for you. Take a second to analyze that, then give us a call.