DeKalb Managed IT Services
Trusted by local businesses for 30 years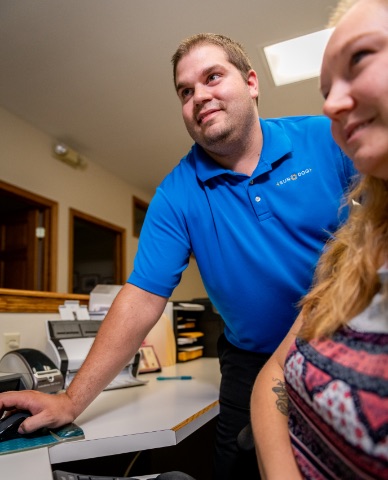 Managed IT made for locals, served by locals
IT is often a pain for businesses. It can seem confusing, foreign, and cold to employees. And many IT guys may seem like they're from another planet, speaking in jargon and lacking concern for customers. Not at Sundog. We offer IT service with a warm smile. We are one of your own.
Our founder, Cohen Barnes, was born and raised in DeKalb and he values the same sense of community you feel when you cheer alongside your fellow Huskie fans at a Friday night football game. Several members of our staff serve on the boards of directors for nonprofits and we are active in the Chamber of Commerce, DeKalb Corn Classic, and Proudly Dekalb. We value our community and we manage your IT as we would our neighbor's because you are our neighbor.
Why DeKalb businesses have been choosing
Sundog for three decades:
Fast, personal service. When you have an IT issue, a local expert is on it in minutes​
98% plus favorability rating among our clients
30-day (no questions asked) money-back guarantee on our service
Complete IT peace of mind. We manage all your technology, so you can focus on your business
Award-winning service. The DeKalb Chamber of Commerce named Sundog Business of the Year
Learn how we have helped so many have great IT
Excellent Follow Through and Communication
Since moving to TotalCARE, we have been calling far less for IT support. Sundog performs regular maintenance checks and monitors our technology catching issues before there is a bigger problem. All without us not even knowing there was an issue to begin with. When they do have to handle issues in our office, their team is great at building and maintaining professional relationships with our staff. They have excellent follow through and communication when handling issues even when the problem ends up being something more outside the norm. I can think of many times when the Sundog team went above and beyond to make sure our needs were met. One time, we had an issue that two or three Sundog team members couldn't get figured out and even the owner of the company ended up spending a couple hours at our office getting everything fixed. That's a great example of the committed leadership at Sundog. If someone was on the fence about using Sundog for their IT needs, I would tell them I can't think of one negative thing to say about the company or the employees.
No More Wasted Time Dealing with IT Issues
As a non-profit, we need to spend all our time working on our mission and not be bogged down with IT issues. Since moving to Sundog for our IT services, we are more productive than ever. We love being able to call Sundog for any system issues that come up without spending valuable work time trying to fix it. The proactive nature of their approach to IT services bring great value to the Chamber. They are always checking in and have built a service to fit our needs rather than just being reactionary. Sundog is an excellent partner for us.
Schedule Your Discovery Session
Our initial discovery session only takes 15 minutes! We will discuss your current roadblocks and issues surrounding IT. Based on your unique business needs, we can begin creating your roadmap for IT success.