An investment with returns in productivity and security
Never waste another dime on unnecessary IT
Technology can have a huge impact on revenue, customer relations, and workforce satisfaction. If you implement solutions that improve productivity and security, your business growth accelerates. Choose clunky technology that slows you down, frustrates employees, and constantly breaks, and your organization can flounder.
To ensure you leverage the best IT solutions, we evaluate your present infrastructure and learn your business needs before recommending solutions that meet your budget and long term growth goals. Our consultants regularly participate in training and certification courses to learn new tech and the distinct requirements of each industry.
Why choose Sundog's IT Consulting:
Overwhelming options and a lack of IT knowledge lead many business owners to purchase unnecessary solutions. Sundog's consultants infuse confidence into your decisions, helping you win the best returns on your technology investment.
IT Consulting services from Sundog feature:
Schedule Your Discovery Session
Our initial discovery session only takes 15 minutes! We will discuss your current roadblocks and issues surrounding IT. Based on your unique business needs, we can begin creating your roadmap for IT success.
Find out all the ways you can cut costs and increase productivity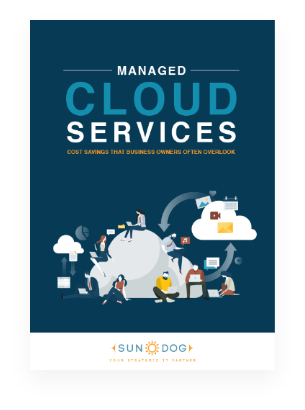 Download a FREE COPY now!