Rockford Managed
IT Services
Seamless technology for nonprofit, government, and aerospace businesses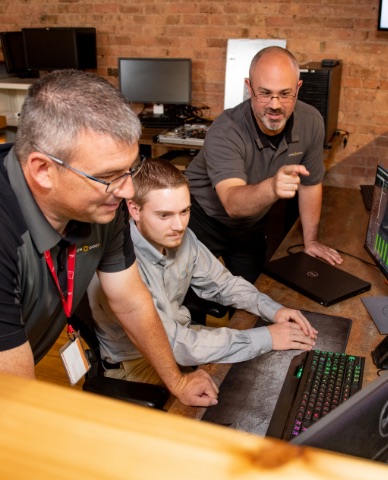 Solutions trusted by big businesses, tailored to your business
While Illinois' third largest city has a rich history in the manufacturing industry, today it has a diverse economy that's become a hub for nonprofits, government industry, and private aerospace. Our Managed IT Services for Rockford businesses can improve your productivity, security, and free you up from day-to-day IT frustrations.
Sundog is the trusted IT provider for the Chicago Rockford International Airport and the Community Foundation of Northern Illinois — one of the most recognized nonprofits in Northern Illinois. Our industry experience and our founder's military background make us your ideal IT partner to help you usher in a new era of profits and growth.
Benefits of Sundog's Managed IT Services:
Network stability to boost employee productivity
Resilient cybersecurity and data protection for your peace of mind​
Jargon-free communication that answers all your IT questions in plain English
An intuitive IT system that improves customer satisfaction and employee retention
Proactive IT management that keeps your focus on business growth
Learn how we have helped so many have great IT
Sundog is Always There for Us … Even After Hours!!!
Once we signed up for NetworkCARE with Sundog, we have received quick responses from them on all our service issues.They spend the time needed to understand our organization better than other vendors, and this results in recommendations well suited for us. We meet with Sundog regularly on a wide variety of projects that help us increase our ability to drive value to our residents. The best thing about Sundog is that they can offer an immediate fix, but also long-term solutions for our IT needs.
Budgeting for IT Was Never This Easy
Before signing up for Sundog's TotalCARE service, our IT costs fluctuated every month making it hard to predict what our IT spend would be. Since TotalCARE is a fixed fee service, we know that when we have IT issues, the work being to resolve the problem is included. Budgeting for IT was never this easy before. Plus, their team is kind and patient even when we are having an IT crisis. We are so glad we took the leap and engaged Sundog. If you make the switch, you won't be disappointed!
Schedule Your Discovery Session
Our initial discovery session only takes 15 minutes! We will discuss your current roadblocks and issues surrounding IT. Based on your unique business needs, we can begin creating your roadmap for IT success.