Worry-free IT for organizations throughout Northern Illinois from a firm with over 30 years experience. Now that is peace of mind.
Proactive management so you can focus on your business
Free your staff from computer headaches with Managed IT Services. Sundog ensures your servers run optimally and your cloud services are accessible when you need them. We'll update your software to the latest versions, protect your systems from malware and hackers, and keep your daily processes running flawlessly—without requiring you to lift a finger.
When you hire Sundog, your business leverages the expertise of an IT firm with over 30 years of experience. You'll enjoy seamless IT managed by industry certified engineers, fast response times by experts who answer your calls directly, and month to month contracts backed by a 30 day, no questions asked money back guarantee.
Key features of Sundog's Managed IT Services:
One Word Comes to Mind … Expertise
Schedule Your Discovery Session
Our initial discovery session only takes 15 minutes! We will discuss your current roadblocks and issues surrounding IT. Based on your unique business needs, we can begin creating your roadmap for IT success. Welcome to The Sundog Way.
Find out all the ways you can cut costs and increase productivity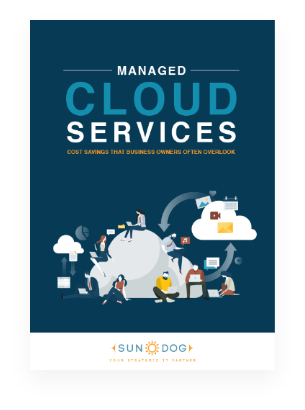 Download a FREE COPY now!