Sundog is an industry leader in Microsoft 365 Solutions
The easiest, most risk-free migration
It's your biggest fear. Your business's transition to Microsoft 365 disrupts your workflow—causing hours of downtime and lost profits. And worse, once you get the platform up and running, your staff's productivity plummets as they struggle to use it, resulting in company-wide frustration. Could there be another way?
As one of the first Microsoft 365 partners, Sundog has thousands of hours of experience transitioning organizations to the platform, and you can feel confident that we'll execute a seamless migration for your business. We provide user training to ensure a stress-free experience for your employees. And if you ever encounter problems, phone our live staff and an expert will resolve your issue fast—so you can get back to work.
Key features of Sundog's Microsoft 365 Solution:
Sundog has migrated thousands of end-users to Microsoft 365, enhancing the mobility and productivity of these organizations.
Schedule Your Discovery Session
Our initial discovery session only takes 15 minutes! We will discuss your current roadblocks and issues surrounding IT. Based on your unique business needs, we can begin creating your roadmap for IT success. Welcome to The Sundog Way.
Find out all the ways you can cut costs and increase productivity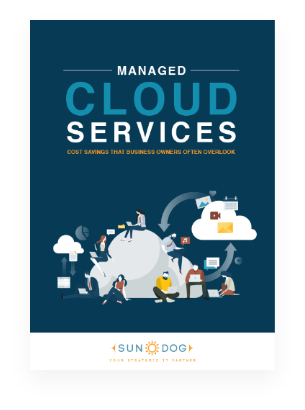 Download a FREE COPY now!