Modernize your business. Access your files from multiple job sites.
VPNs so you and your team can securely and quickly access files while in the field​
Proactive IT management to prevent downtime​
Cloud solutions to enhance collaboration across multiple work sites​
A fast IT network to support your AutoCAD software, 3D rendering, and high volumes of blueprints​
Full-service IT. We provide installation and support on all our technology recommendations​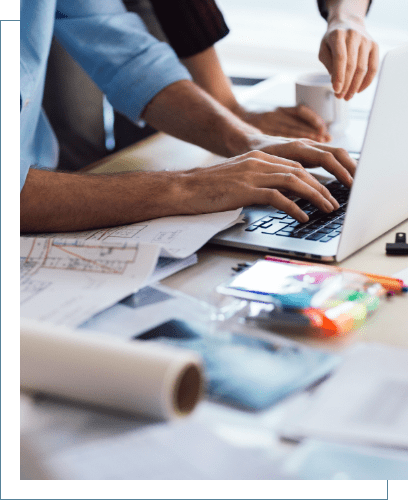 Technology that streamlines your communication
Whether you're in the office or out in the field, you rely on technology to move your projects forward. Constant computer headaches slow down your entire operation, leaving employees twiddling their thumbs as your billable hours plummet. That's where we come in.
Sundog ensures you have fast networks and fast computers. And we leverage technology to optimize your communication channels. Smart solutions like Cloud Computing streamline your project management, providing staff access to your office system, billing software, and phone systems wherever they are — whether in the field, on a business trip, or commuting to the job site.
Learn how we have helped so many have great IT
Sundog is Always There for Us … Even After Hours!!!
The biggest benefit to us has been the fact that we can give any IT problem, no matter how big or small, to the team at Sundog allowing us to go back to our work with a calm and confident feeling that our issue will be resolved. The follow through of Sundog's staff is second to none. They are great at prioritizing the needs of our office. When something is urgent, they get a tech right on it, so that our office is minimally impacted. Even after hours, we love how accessible they are by having their technicians, who are extremely professional, yet personable, on-call and ready to serve. There is definitely a family vibe to the Sundog staff which is great! I would strongly recommend Sundog to any organization in need of IT services. When the need is high, we know Sundog is there for us. By having Sundog on our side, we are more productive than we were before them.
With Sundog, You Are Simply Getting the Best
With TotalCARE, the Sundog team is very educated on our process and make it seem like they work here daily when they help with any kind of issue. They really are a partner to us. When working with their technicians, it is a family like environment and feel. Their in-depth expertise and great problem solving capabilities show in each interaction with them, and we love their consistent follow up on issues. They are a company that you can trust to always come through and care deeply about their clients. Just like anything in life, you get what you pay for. With Sundog, you are simply getting the best.
Schedule Your Discovery Session
Our initial discovery session only takes 15 minutes! We will discuss your current roadblocks and issues surrounding IT. Based on your unique business needs, we can begin creating your roadmap for IT success.