Modern security solutions from certified experts
If you are looking for corner offices and punching a clock with your employee number, you might not like us. While we appreciate many companies' structures and job titles, at Sundog we communicate directly with each other and are accountable to each other for success. We are a free-flowing company who encourages our employees to contribute ideas.
Selected as one of Inc. Magazine's 5000 fastest growing companies, Sundog continues to recruit talented people as the cornerstone of our success. We focus on serving our clients , together. Yes, all of us. Each of us contributes directly to the company's success. Our employees enjoy working here because their talents and initiative are supported and develop our company.
Don't believe us? We were named as one of the Best Places to Work in Illinois in 2022! Companies from across the state entered the two-part process to determine the Best Places to Work in Illinois consisting of an evaluation of our workplace policies, practices, and demographics as well as an employee survey to measure our team's experience.
If you enjoy working in a team environment, want to be part of one of the fasting growing companies in America, and meet the necessary requirements for any of the listed positions, please click Apply Now in the job description below.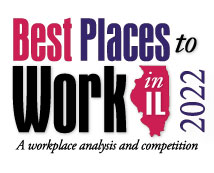 We recognize that an inclusive culture is a process that requires ongoing effort, education, dialogue, and action. We regularly evaluate our policies, practices, and programs to ensure that we are creating a workplace that is truly diverse, equitable, inclusive, and free from discrimination and harassment. We seek to create an environment where all our staff feel valued, respected, and supported. Everyone deserves an equal opportunity to succeed, and we will work to eliminate any systemic barriers that may prevent that.
Our service delivery process is centered on client focus, accountability, respect, excellence, and empathy and is best supported by a team of diverse individuals with various life experiences. Listening and engaging with our team members helps foster a sense of belonging and empowerment.
Sundog's hiring and promotion practices account for all applicants and staff regardless of their race, ethnicity, gender, sexual orientation, gender identity, age, or disability. We are determined to build a team that reflects our community's rich diversity and provides equitable access to technology solutions for all our partners. Sundog believes this commitment makes us a better place to work, and a better partner to those we serve.