Modern security solutions from certified experts
Sleep soundly with Sundog Cybersecurity
Hacking. Data loss. Compliance liabilities. Problems that can keep a business owner up at night. Awake in bed, tossing and turning, worrying about ransomware attacks, IP theft, or compliance violations that can jeopardize your business.
Sundog's Cybersecurity solutions ease your fears. We ensure your business is compliant with current industry standards and regulations. And we use the latest security technology to prevent new viruses, malware, and other cyber threats from infecting your business.
Key features of Sundog's Cybersecurity:
No longer feel vulnerable and exposed to cybersecurity threats. Sundog provides you peace of mind with a comprehensive cybersecurity package that offers state-of-the-art protection and compliance, without sacrificing functionality.
Schedule Your Discovery Session
Our initial discovery session only takes 15 minutes! We will discuss your current roadblocks and issues surrounding IT. Based on your unique business needs, we can begin creating your roadmap for IT success. Welcome to The Sundog Way.
Find out all the ways you can cut costs and increase productivity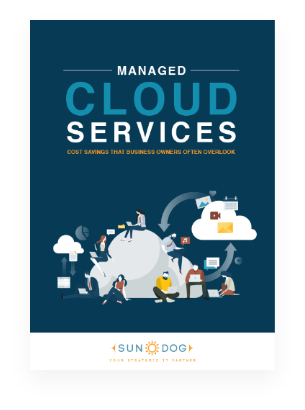 Download a FREE COPY now!