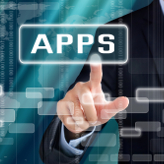 As a small- or medium-sized business (SMB) owner, you need to stay on top of IT trends to get ahead. However, many new IT solutions are quite confusing. One of those is app virtualization. To clear up the confusion, here is a quick overview of what it's all about.
What are non-virtualized apps?
To understand app virtualization, first you need to understand how non-virtualized apps are installed.
When you install an application like Skype or Slack onto a computer, the installer program puts most of the files required for the app to run on your hard drive's Program Files folder. This process is usually fine for personal use but may become problematic if you install similar apps on your device.
For instance, if two similar apps are installed on the same file destination, there's a chance that they might conflict with each other and inevitably crash. Likewise, if you uninstall a program without knowing that it shares important files with another application, you run the risk of breaking the other one.
The solution to this is app virtualization.
What is app virtualization?
App virtualization involves running a program in an environment separate from the physical server, allowing you to run programs that are normally incompatible with a certain operating system (OS). In other words, virtualized apps trick your computer into working as if the application is running on a local machine, but in fact, you're actually accessing the app from somewhere else.
Advantages of app virtualization
App virtualization offers numerous advantages for SMBs, including:
Quick installation times and less money spent on local installation
Allowing incompatible applications to run on any local machine. For instance, if your laptop is dated and can't run the latest apps on its own, you can lighten the load on your CPU by accessing virtualized apps instead.
Mac users can run any Windows apps if your company's local server runs Windows OS.
Applications on your computers won't be in conflict with each other since virtual apps are installed in a separate location.
Upgrading is easy because your IT team won't have to upgrade applications in individual desktops, they just have to upgrade the virtual application within the company's local server.
Applications can be accessed from any machine, allowing your employees to work from home or on the go if they choose to.
Things to consider
Before you start deploying app virtualization solutions, you need to have a stable network connection so users can smoothly stream apps. Note that some apps like antivirus programs are difficult to virtualize since they need to be closely integrated with your local OS.
Virtualizing a workplace is no easy task, and that's where we come in. If you're convinced that your company can benefit from app virtualization, get in touch with our IT experts today.