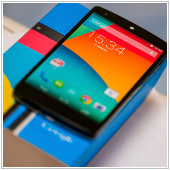 Google has announced another batch of features coming to your Android phone, possibly as soon as next month. Although some of the items are simple and subtle integrations and others are far more grandiose, they're all going to drastically improve the performance of your phone. Since some people view their mobile device as something akin to an extension of their body, let's take an in-depth look at the new things you'll be able to do.
Split Screen
The most visible and exciting feature is Android's new 'split-screen' functionality. Soon you will be able to enter your 'overview' mode (the button that shows all of your open apps in a rolodex style queue), click and hold on an app like YouTube and drag it to the top of your screen where it will dock. The bottom half of your screen will remain in 'overview' mode, allowing you to select an app to occupy the bottom half of the screen. With this update, sending an email while YouTube is open won't cause any interruption in either of the two programs. It's the same as having two monitors, just on a much smaller scale.
Because phone manufacturers get to layer their own components on top of Google's core Android operating system, Samsung and LG already have a few 'split-screen' devices. However, by integrating this item into every Android phone regardless of manufacturer, app developers will have more incentive to optimize their product for this feature or even develop new apps designed entirely around this functionality.
Fast App Switching
Do you ever find yourself switching back and forth between two apps? Maybe you need to write an email on your phone, while using a web page as reference material. Switching between the two can really slow down the flow of your work, and Google has finally addressed this by improving the 'overview' interface. In addition to limiting the number of displayed programs and adding a 'clear all' button, Android mobile devices will get 'fast app switching'. With this feature a simple double tap of your 'overview' button will switch to the last program you used. After switching to the previous app, you can double tap again to return to the original app. It's simple, but goes a long way.
Updated Notification Window
Next up is a small change to the native notification window. At the moment, if one app has multiple notifications they all get grouped into one vague 'card' in your notification window. I/O announced that in the future users will be able to tap on one of those cards to expand it for more detail. Instead of just seeing that you have six emails from various users, you'll be able to see more information and access response actions for each individual notification within apps.
Instant Apps
How many times have you installed an app that you didn't want, but needed for a one-time use? Whether it's to purchase tickets, gain access to a promotion or receive something from a friend who uses the app, it can be a lengthy and tedious process. With 'Instant Apps' Android will give you the option to temporarily load software, similar to a webpage, so you can access the service without actually downloading the unnecessary app. Google promises this will take mere seconds compared to the time it currently takes to download and install full programs before using them.
Some tech writers have cited 'Instant Apps' as actually faster than loading a website, with all of the security and safety of an app. Additionally, while the 3 features before this one will be released for phones with the most recent OS update, Google is making 'Instant Apps' available to developers for any phone running anything newer than the Jellybean OS.
In general, Android phones offer a lot more customization and developer-specific options when compared to Apple's mobile devices. However, that can mean a lot more upkeep as well. If you're having trouble maintaining your Android device's peak capacity or need help managing their updates, don't hesitate to call us.