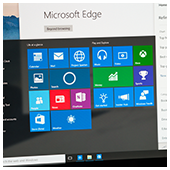 Recently, Microsoft has made new upgrades to their web browser platform. Despite numerous changes, one making the biggest waves for users of all kinds is the lack of instant and easy compatibility with Adobe Flash. Adobe Flash is a web platform and add-on that many business websites have put to extensive use. However, now that Microsoft has made these changes, it can mean big things for business owners and web designers alike. Get to know more about why Microsoft has blocked Adobe Flash and the possible ramifications for those changes.
The primary purpose behind the recent changes made to Microsoft Edge is to make it more competitive with the popular Google Chrome web browser. Among efforts to do just that is the change to how Adobe Flash works on the Edge browser. Now, instead of Adobe Flash plugins playing and loading immediately when a person navigates a website, the application will be blocked.
An alert will come up near the address bar, letting users know that Adobe Flash has been blocked and will give the option to run the add-on or continue blocking it. For businesses that use Adobe Flash throughout their websites, this can be a frustrating change as visitors will need to take an extra step to access the full website.
However, there are numerous legitimate reasons for these changes to the Microsoft Edge browser. The most important of these issues is the fact that Adobe Flash is a security risk and is easily hackable, making it more likely for information and control to be lost to web users. Another issue is the fact that Adobe Flash is a big drain on battery life for computers and other devices.
The theory is that Adobe Flash is on its way out, and that newer, better systems are on their way in. As of now, Windows Insider users are the only ones with access to these updates, but soon the updates will go global and be made available to all users. In fact, Microsoft plans to eventually automatically load HTML5 web information first without loading Adobe Flash content at all.
Because so many sites use Adobe Flash, this can mean major renovations to existing web content. If you worry about the impact this will have on your business, contact us for immediate help and assistance in maximizing your website usability before these changes go live for all Microsoft Edge users.