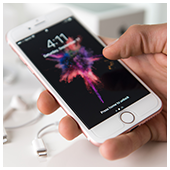 Apple recently introduced iPhone 7 to the market, and the smartphone experience is expected to improve yet again. The phone intensely focuses on the most crucial features that iPhone users deem important, and it looks every bit as prevailing as its predecessors. Continue reading to learn the new features of iPhone 7.
Water resistance
This is one of the features new to the iPhone. The iPhone is 7 is IP67, meaning that it is designed to withstand liquids and dust. Even though Apple doesn't define liquid protection, this is similar to the original Apple Watch and is therefore able to survive splashes and accidental drops into a pool of water, a welcome addition for iPhone users who value water resistance in their gadgetry.
Future proof
Future compatibility is another feature of iPhone 7. Apple's current mobile operating system is iOS 10 and runs a range of applications and features not available to outdated iPhone models. But iPhone 7 can virtually run any app ever created for the platform. Therefore, an iPhone 7 will carry its users well into the future by running on the latest technology. Users of iPhone 4 or 4S are out of compatibility and may consider upgrading. Users of iPhone 5 or 5C are on edge and should also probably consider an update.
Better graphics
The iPhone 7 boasts a 4.7-inch screen and 1336 x 750 pixels at 326ppi, which allows users to run iPad-style apps in a landscape display. iPhone 7 also has DCI-P3 broad-range color, which means brighter photos, games, videos and more. People who demand rich graphics or have a high acute color sense certainly won't be disappointed.
Faster and juicier
Apple Fusion 10 and long battery life are the features that make iPhone 7 cutting edge. People who need an iPhone with more power and a battery that fully charges in minutes — not hours — will love this upgrade. The new iPhone 7 has a cutting-edge LTE + Wi-Fi, enabling faster transfer of data and connectivity. Users with 802.11ac router who want to open applications, load webpages, and stream videos at a faster rate won't have anything to complain about once they've switched over to the new model.
Stellar camera
iPhone 7 features a camera that can perform at the same-level as mid-range SLR cameras. With a 12-megapixel sensor and ƒ/1.8 aperture, as well as 7 megapixels for FaceTime conversations, individuals who want to fill their Instagram, Snapchat, and Facebook accounts with high-quality photos will definitely have something to brag about. Finally, the iPhone 7's 3D and live photos feature can add depth and movement to your photos.
Although the iPhone 7 may not look very different, there's actually a lot going on under the hood that can probably enhance the user experience. So will you be lining up for this iPhone anytime soon? For more details on iPhone 7 trends and Apple innovation, contact us today.