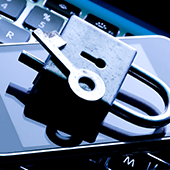 More and more customers are using their smartphones and tablets to browse and purchase products. That is why many businesses are adopting a mobile-first strategy and shifting their focus on improving their websites on mobile platforms. But to stand a better chance of enhancing business security, you need to adopt mobile threat detection (MTD) tactics.
How machine learning helps
Mobile threat detection is an all-around solution that protects the physical device, its network traffic, and the applications from malware. It is augmented by a machine learning mechanism, which allows devices to recognize usage patterns and identify potentially malicious behavior without additional programming.
Not only is it able to identify abnormal behavior, it's also useful in cases involving multiple mobile devices. For example, you're monitoring a hundred Android mobile devices running on a specific OS version and one deviates from the rest; machine learning makes it easy to spot that anomaly and detect possible threats.
Is MTD effective in detecting malware?
It's no secret that most malware are cleverly disguised as useful programs or apps, making them difficult to detect. The key to finding — and defending against them — is recognizing irregular patterns in user behavior and how individual devices function.
For this reason, a simple scan is not enough, especially for cyber crimes like phishing scams directed toward individual recipients. Machine learning integrated into mobile threat detection helps by observing both the app and the user's behavior. But despite this formidable combination, cyber criminals continue to develop more sophisticated ways to attack computer systems and mobile devices. As such, mobile security needs to cover applications, networks, and devices to be effective.
How to adopt MTD solutions
MTD is an essential part of mobile security and is widely offered by various vendors. However, implementing one requires a thorough evaluation of important factors, including industry regulations and the level of sensitivity of the data stored and/or exchanged in your mobile devices.
Your chosen MTD solution should also be able to inspect mobile devices' hidden weaknesses that can make individual devices and your entire network vulnerable to malware. Moreover, it should be able to identify suspicious connections and unusual network traffic.
Developing strong defenses for mobile devices is fast becoming a critical component in many businesses' cyber security strategies. And although mobile threat detection remains an imperfect means to detect malware, it is far more powerful than traditional anti-malware solutions.
Businesses like yours need comprehensive security solutions to fend off cyber attacks, whether on your PCs, laptops, or smartphones. For expert IT security recommendations, call us today!