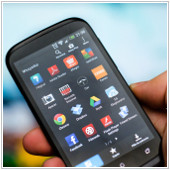 A little over a month ago, it was reported that the Facebook app was causing slowdown down to Android phones everywhere. Today, we now have an app that will do exactly the opposite: speed up your Android. We all know how a speedy phone can help you accomplish tasks faster, make it easier to communicate with friends and reduce frustration, and this app should allow you to achieve just that.
Aptly titled Chromer, this free app is essentially a lightweight version of Chrome that was created for one sole purpose: to allow your Android device to easily take advantage of Chrome custom tabs. And what are Chrome custom tabs you ask? Simply put, they are a solution Google created to greatly reduce the amount of time required for apps to load web pages on Android.
How does Chromer speed up your Android?
If you haven't figured it out yet, it all comes down to internet browsing. With the help of Chrome custom tabs, Chromer provides a quick browsing experience.
Up until now, Chrome custom tabs needed to be implemented by third party app developers. Chromer has resolved this issue with an app that utilizes Chrome custom tabs and is available directly from the Google Play store. By installing this free app, your browser will gain an edge in a number of ways that include:
Faster loading web pages
Saved website logins so you won't have to repeatedly type in your usernames and passwords
Form autofill capabilities
Secure browsing experience that uses the same security rendering engine as Chrome
Best of all, you will instantly speed up your Android internet browsing experience. To use Chromer, you will need Google Chrome 45 or greater installed on your Android device. You can download Chromer for free here. Once installed, set it as your default browser and you will finally be able to enjoy a quick browsing experience.
If you're interested in learning more about how to optimize your Android phone or tablet, get in touch with our experts. We love our Android devices as much as you, and are happy to show you how to get the most out of them.