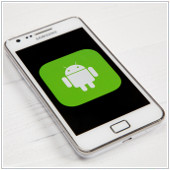 What happens when the data well runs dry? Your 2, 3 or 4 gig plan is out, and then what? While you'd probably rather not think about it, we all know you're either forced to use a slower connection or connect to the Internet through Wi-Fi. Certainly this is not the worse thing that could happen to you, but for many Android phone users it's a scenario you want to avoid at all costs. So how can you reduce your data usage while still getting the most out of it? Here are a few tips to consider.
Data Saver for Chrome
We all know surfing the web sucks up data. But did you know there's a way to reduce the amount of it used while riding the Internet waves? Google Chrome enables you to do just that by compressing Chrome pages, reducing data use by 30-35%. To activate this feature, press the three dots on your Chrome browser > Settings > Data Saver. Switch it on here, and start saving data now.
Video Compression on Opera
Google Chrome isn't the only browser with a compressing feature that saves data. The Opera mini browser also compresses data, but with video instead. Of course, if you're trying to save data it's a good idea to avoid streaming video while not connected to Wi-Fi, but if you must do so, follow these steps on your Opera mini browser to load videos faster while saving data: go to Settings > Data Savings and tick the video compression box.
Eighty-six Facebook and other data-draining apps
This extremely bloated app has caused multiple problems for Android users. Not only has it been linked to causing Android phone slowdown, but it also consumes a ton of data. A few alternative ways to access Facebook sans the application are to use the web app Tinfoil or via your Google Chrome web browser.
And while we're on the subject of applications, consider deleting other apps that consume high amounts of data. Of course you likely have dozens of apps on your phone, so how do you know what's consuming the most? Simply go to Settings > Data usage. From here you can see what apps are consuming the most data and delete them if you so choose.
Restrict background data
If there ever was a nemesis to data usage, it would be background data. This pesky feature of Android consumes data when you're not browsing the web or using an app. To prevent this from happening, click Settings > Data Usage > Restrict Background Data.
Mind your auto-updates
Just because a new version of an app is available doesn't mean you should update it right now. Doing so when not connected to Wi-Fi eats up a lot of data, which is why it's important to turn off auto-updates because when switched on your apps will update automatically regardless of whether you're connected to a Wi-Fi signal or simply using data. So set your Android to only update in the presence of Wi-Fi by going to Google Play Store > Settings > Auto Update Apps > Auto-update Apps over Wi-Fi Only.
Hold-off on streaming music
We know you love streaming music on YouTube, Spotify, and similar sites but, let's be honest, this is killing your data. There's nothing wrong with streaming music from these sites in and of itself, simply wait till you can connect to Wi-Fi to do so. In the meantime, listen to music you have stored on your phone to get your tunes in.
Take your apps offline
Many apps provide an option to access them offline without consuming any data. Google Docs is a prime example. You can choose which documents you'd like to access while not connected to the Internet. Make it a habit to check which of your apps have offline access options and enable that setting whenever possible.
Saving data on your Android device is not rocket science. Most of the time you simply need to be a bit more conscious of your online activities, and you can save a tremendous amount of data in the process. Hopefully these tips will help you do just that. If you'd like to learn how else you can improve your Android devices, get in touch with our experts now.