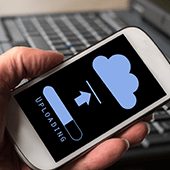 There's no denying that backing up your data is important. If you don't, a cyberattack or hardware failure could wipe out invaluable personal and professional information. This doesn't just apply to desktops and laptops. Android phones and tablets store plenty of important data, which means they need to be backed up, too.
Take advantage of cloud services
The best way to ensure your data is safe is backing it up in the cloud. When you power up your Android device for the first time, make sure to sign up for a Google account, this will give you access to 15GB of free Google Drive storage with additional space available for a monthly fee.
Any Google Docs or Sheets file you create on your phone will automatically be saved to your Drive, so if you ever lose your phone, you can simply retrieve your files by signing in to your Google account from a different device.
If you're not a fan of Google services, you can always opt for other cloud storage services like Dropbox or Office 365.
Back up your device settings
Another great thing about Google Drive is you can back up your device's settings and preferences. These include screen lock passcodes, display preferences, language options, and approved WiFi networks.
To confirm all these settings are saved to your Google account, go to the "Backup" section in system settings and enable "Backup to Google Drive." This way, if you ever switch to a new phone, you can simply restore all your device settings and preferences by signing into your Google account.
Save app data
If you have apps that contain important information, you can sync that data to your Drive. Simply return to the "Backup" section, look for "App data," then enable the Automatic restore function.
Keep your contacts
Most contacts are saved on SIM cards or on the phone itself, so check if there's a cloud syncing option in your Contacts app. If your phone doesn't have this option, try third-party services like Contact Backup, which can be found on the Google Play Store.
What if you don't save your data in the cloud?
Although we highly recommend cloud services for data retrieval, your phone's SD card does retain some information after it's been deleted. You can restore deleted files by connecting your card to a desktop computer and using specialized recovery software. But this can be a complicated process unless you team up with Android experts like us.
For more services regarding data backup and mobile device management, call us today. We offer a wide array of solutions for Android phones.