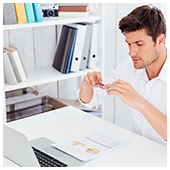 In the past, "scanning documents" meant using a dedicated scanner to convert the physical document into a PDF or image file. Nowadays, however, you can simply scan documents on your phone. The camera feature has made it incredibly easy to capture an image of your document. But if you want to create a PDF with your smartphone, you're going to want to use Dropbox's doc scanning feature for Android.
Doc scanner
The new doc scanner feature is fairly straightforward. Simply open the Dropbox on your Android device, tap the "+" button, and select Scan Document. Then, take a snapshot of any printed or handwritten documents within Dropbox, and the app will quickly convert the image into PDF format. To maximize capture accuracy, make sure your document is not crumpled, minimize glare on your photo, and hold your Android directly above the document.
Once you've captured the document, you can go to the Edit options. From there, you can crop, rotate, or adjust the contrast of your scans. Under the Arrange menu, you can even group multiple scans to create a single PDF. After you're satisfied with the changes, the document will then be uploaded to your cloud storage, ready for you to access anytime, anywhere.
Dropbox also announced that if you are on a Dropbox Business Team, you can search for keywords inside any of your scans. Unfortunately, there are still no features that allow you to edit the text within a scanned document directly.
For many Android users, this update has been a long time coming. iOS versions of Dropbox have had this feature for almost a year, but we guess it's better late than ever.
Bonus feature: Paper update
On top of the scanner update, Dropbox Paper — a shared platform where employees can collaborate on files and communicate — is getting an offline mode. This feature allows you to continue working on any documents you've stored in Dropbox while you're offline, and immediately sync any edits or changes once you find an internet connection.
Although the changes may seem small compared to other feature releases, both the doc scanner and Dropbox Paper update are welcome additions for Android users who want to work on the go.
If you're looking for more apps and updates that will make your Android device even better, call us today. We can provide cloud productivity apps that will empower your increasingly mobile workforce.