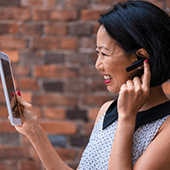 As seen with Apple's AirPods, people today are quickly growing accustomed to wireless pairing between their smartphones and headphones. Of course, Google has been working on a solution of its own, and it has just made it to the market.
What is Fast Pair?
Fast Pair is Android's new connectivity solution which uses Bluetooth technology and the smartphone's proximity to let you connect to Fast Pair-enabled Bluetooth devices with just a single tap.
How does it work?
When a Fast Pair-enabled device is nearby, your Android smartphone will automatically retrieve the device's product image and name from Google's servers and display it on the screen. After tapping the image, a confirmation message will appear to let you know a pairing has been made successfully.
Fast Pair also comes with useful companion apps. An example would be the equalizer app that comes with certain Bluetooth headphones. It lets users optimize their sound experience whenever using Fast Pair to connect to Bluetooth devices.
Note that Fast Pair only works with Google Play Services version 11.7. And while Google may not have introduced a completely new technology, you can expect a broader range of wireless coverage and faster connectivity as more wireless devices get Bluetooth 5 features.
Does it support all existing Bluetooth gadgets?
Not for the time being; Bluetooth device manufacturers will need to adopt Fast Pair by registering with Android first. Currently, the following headphones are Fast Pair compatible: Google's Pixel Buds, Libratone's Q Adapt On-Ear, and Plantronics Voyager 8200-series wireless headsets.
Support for Fast Pair extends back to Android Marshmallow. And as more Android phones are losing the headphone jack, Google has made the right move to support the change in demand.
As the world of technology moves forward, you can expect even more hardware designed to make life easier. And as always, you can count on us to keep you up to date about all of it. If you have any other questions, just give us a call.