Cybercrime is an urgent business problem.
Boost your company's cybersecurity now.
Over the years, cybercrime has become much more prevalent and increasingly harder to evade. Organizations of all types and in all industries are getting attacked, but small- and medium-sized businesses (SMBs) tend to be the hardest hit — alarmingly, most SMBs permanently shut down within six months of suffering an attack.
Don't let your company become another cybercrime statistic. Secure your company's future by boosting its cyber defenses.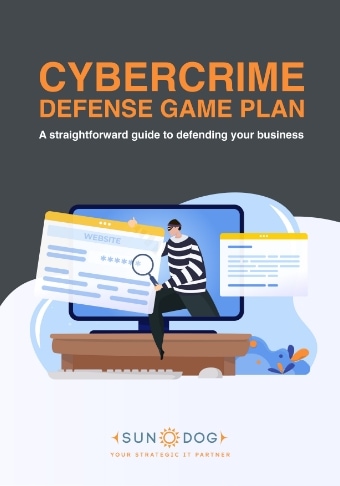 When you download our eBook, you will:
This comprehensive guide will equip you with an effective cybercrime defense game plan. Download our FREE eBook today — absolutely no obligations.

Sundog is Always There for Us … Even After Hours!!!
"The biggest benefit to us has been the fact that we can give any IT problem, no matter how big or small, to the team at Sundog allowing us to go back to our work with a calm and confident feeling that our issue will be resolved. The follow through of Sundog's staff is second to none. They are great at prioritizing the needs of our office. When something is urgent, they get a tech right on it, so that our office is minimally impacted. Even after hours, we love how accessible they are by having their technicians, who are extremely professional, yet personable, on-call and ready to serve. There is definitely a family vibe to the Sundog staff which is great! I would strongly recommend Sundog to any organization in need of IT services. When the need is high, we know Sundog is there for us. By having Sundog on our side, we are more productive than we were before them."
When We Need Help, They Are Amazing
"We used to fear that we were missing calls with our old system, but not with Sundog's VoIP phone system. The single biggest benefit is the ability to customize our individual phones to connect with our customers more effectively. And when we need help, they are amazing. We email with a problem, usually ours in the learning curve, and we receive an answer and follow up within a day. They have been so patient with our learning curve and repeated questions while balancing high tech with personalization. They are the best!"
Their Response Time for Questions and Issues is Excellent
"Having multiple locations for our law offices, communication between them was always difficult. With Sundog's VoIP phone system, we can now transfer calls between offices easily increasing our firm's productivity. We can also see when someone is on the phone at another location allowing us to quickly route calls to the appropriate person. Their response time for questions and issues is excellent. Nobody is as "solid" as Sundog. They have the people and the technology to meet your needs!"
We Love the Voice Quality of the Phone System
"Compared to our last phone system, the benefits of SundogVOICE are many. We especially love the ability to have our voicemail converted and sent to our email. But we especially love the voice quality of the phone system. Before Sundog's VoIP system was installed, we would have static on our lines, and we would even pickup radio stations. It was crazy. Now, we have a phone system that just works. With the Sundog team, we know our concerns will be heard, addressed and brought to a resolution as soon as possible. I've always felt like every person at Sundog truly cares about doing a good job for us and figuring out what we need."
No More Wasted Time Dealing with IT Issues
"As a non-profit, we need to spend all our time working on our mission and not be bogged down with IT issues. Since moving to Sundog for our IT services, we are more productive than ever. We love being able to call Sundog for any system issues that come up without spending valuable work time trying to fix it. The proactive nature of their approach to IT services bring great value to the Chamber. They are always checking in and have built a service to fit our needs rather than just being reactionary. Sundog is an excellent partner for us."
One Word Comes to Mind … Expertise
"One word comes to mind when summing up our IT service provided by Sundog. Expertise. As a CEO, I know that we have access to IT expertise with the Sundog team that I don't have on staff. We are in the food business – hiring and maintaining IT expertise on our staff is not our core, and we know we are better off letting Sundog provide this expertise. They are very responsive, and their staff is extremely friendly to work with. If there is ever a problem, they are committed to fixing it. Sundog is a firm you can trust to give you great service and high value."
As a Manufacturer, We Found Sundog to be Cost Competitive
"While we just began formally transitioning our IT services to Sundog, it is already apparent they are taking ownership of our network and proactively managing risks. Their team possesses solid credentials and experience. They haven't run away from an issue we have experienced yet. The Sundog team displays a desire to learn in situations they have not experienced before and show a passion for helping us take things to the next level. They also look for opportunities to install technology to increase our productivity. As a manufacturer, we are always watching our costs, and Sundog is cost competitive. But, while costs are an important factor, it is also important (for me personally) to actually like the people I do business with. I truly enjoy working with the team at Sundog. The combination of these things made it"
Their Service Gives Us a Competitive Advantage
"The biggest benefit to me and our agency is that Sundog knows what we need for technology in order to operate our business successfully. With multiple office spread across a wide area, they make sure all offices are all consistent in their setup to communicate effectively with our main location and other companies. Their service is always very prompt, and they act quickly when we have technology problems. We enjoy having Sundog as our partner. They are very courteous, professional and extremely helpful in all our interactions with them. Their staff is very knowledgeable of current technology and coming trends which helps give us a competitive advantage."