"Is Your Current Computer Guy Only Putting Careless Band-Aid Fixes On Your Most Pressing IT Problems?"
I have included a large band-aid with this letter. Why have I done this? For two reasons:
I have something very important to tell you so I want to be absolutely sure I have your attention, and…
I am fed up with seeing so many Northern Illinois businesses seriously wounded by thoughtless "band-aid fixes" put on their computer networks by other IT guys trying to save a buck or two, and I'm determined to finally put a stop to this careless activity once and for all.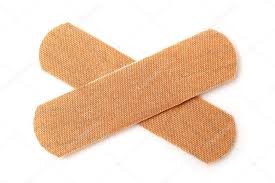 Here's what this is all about: Sundog is the only technology firm in Northern Illinois having over 30 years of experience, with 100% of our engineers being industry certified, that delivers the fastest response times by answering our phones live, and who offers month to month contracts backed by a 30 day, no questions asked money back guarantee. Our 'Technical Advisor' model ensures a specific engineer at Sundog will always be familiar with your technology and the personnel at your organization.
Although this isn't an amazing concept, I'm amazed at how many IT firms don't get this right. And if you're frustrated with your current IT person because they are totally unreliable, inept at solving your IT problems fast and (quite possibly) incompetent at delivering good, predictable service, we can help.
In addition to solving these issues, we can also show you how to:
Increase employee productivity significantly

by putting a responsive IT support help desk within a quick phone call's reach whenever any little glitch does occur. Why should anyone on your staff ever have to wait around idly while their computer is down?
Eliminate costly downtime, chronic problems, slowness, and other computer headaches with our TotalCARE services. How does this work? By proactively maintaining the health and security of your network with 24/7 monitoring and maintenance.

In fact, we guarantee that you will have less than 1 hour of downtime the entire YEAR due to a problem we should have caught under our watch—

just try to get your average "computer guru" to make that kind of promise!
Gain complete peace of mind that your network is 100% secured and backed up properly so IF you were to experience a major disaster of some kind,

we could have you back up and running again within 24 hours or less.

And we don't just say that, we guarantee it.
Ultimately, this means you and your staff will no longer have to waste time or money on aggravating computer problems, period.
A $500 "Get-To-Know-Us" FREE Gift…
As a prospective client, I'd like to offer you a free, no-obligation, no-sales-pressure IT Systems Assessment where I'll send one of my senior technicians to your office to conduct an audit of your network's security and overall health.
When done, we'll give you a report of findings that will not only reveal if your data and computer network really are properly backed up and secured, but also if there is anything you need to do now to prevent a major network outage, data loss, hacker attack or other expensive, data-erasing disaster. Plus, we can almost always show you how to save a little (or a LOT) on hardware and software by switching to more efficient cloud-computing solutions.
After all, it never hurts to get a competitive bid from a qualified third party – and this assessment is totally, completely free without obligation.
To schedule your free IT Systems Assessment, please call my office at (815) 991-2400. You can also go online to www.sundogit.com/band-aid and complete the form or send me an e-mail at @sundogit.com.
While there, you can also read comments from other business owners like you and discover why we're Northern Illinois's #1 small business IT support firm.
The Assessment only takes 45-60 minutes to conduct, but when it's done, you'll know for sure if your company's data is secured and, in the event of a disaster, exactly how fast you could be back up and running again (if at all). I will be following up in the next couple of days to make sure you received this letter, and to see if you would like to schedule this free IT Systems Assessment. If not, please just let us know!
Dedicated to serving you,
Sundog
(815) 991-2400
YourTeam@sundogit.com
P.S. There is not any cost or obligation of any kind when you request this IT Systems Assessment, and you won't be harassed by a high-pressure salesman; I'm simply extending this offer to you as a way of introducing myself to you and providing value to you as a fellow business owner.
How Does Your Current Computer Support Guy Stack Up?
Take this quiz to find out!
How can you tell if you are receiving poor or substandard service? How do you know if your computer guy is doing everything possible to secure your network from downtime, viruses, data loss or other frustrating and expensive disasters? Could your current technician actually be jeopardizing your network? If your technician does not score a "yes" on every point, you could be paying for substandard support.
Do they respond to emergencies in 60 minutes or less?
Are they easy to reach and responsive when you need them for non-emergencies?
Do they offer an ongoing maintenance program to keep critical security settings and patches up-to-date?
Do they offer a monitoring system to watch over your network 24/7 for developing problems?
Do they proactively offer new ways to improve your network's performance, or do they wait until you have a problem to make recommendations?
Do they provide detailed invoices that clearly explain what you are paying for?
Do they explain what they are doing and answer your questions in terms that you can understand?
Do they complete projects on time?
Do they follow up on your requests quickly?
Do they offer any guarantees on their services?
Do they arrive on time and dress professionally?
Do they have other technicians on staff who are familiar with your network in case your regular technician goes on vacation or gets sick?
Do their technicians maintain current vendor certifications and participate in ongoing training?
Do you feel as though they are learning on your time?
Do they seem constantly rushed?
Do they take calls from other clients while working on your network (and on your dime)?
Do they listen to you?
Are they adamant about backing up your network and having a disaster recovery plan in place?
Do they offer to meet with you regularly to review your business plans, your network status and their own performance in supporting your company?
Do you have to manage their progress on projects, or do they provide frequent updates, status reports, follow-up calls and e-mails?
Do their projects always end up costing more and taking longer than you expected?
Do they offer flat-rate or fixed-fee project quotes, or do they give themselves a wide open playing field with "time and materials?"
Sign Me Up For The Free Assessment
Important! We hate spam as much (or more!) than you and promise to NEVER rent, share, or abuse your e-mail address and contact information in any way.
Important! We hate spam as much (or more!) than you and promise to NEVER rent, share, or abuse your e-mail address and contact information in any way.
"The biggest benefit to us has been the fact that we can give any IT problem, no matter how big or small, to the team at Sundog allowing us to go back to our work with a calm and confident feeling that our issue will be resolved. The follow through of Sundog's staff is second to none. They are great at prioritizing the needs of our office. When something is urgent, they get a tech right on it, so that our office is minimally impacted. Even after hours, we love how accessible they are by having their technicians, who are extremely professional, yet personable, on-call and ready to serve. There is definitely a family vibe to the Sundog staff which is great! I would strongly recommend Sundog to any organization in need of IT services. When the need is high, we know Sundog is there for us. By having Sundog on our side, we are more productive than we were before them."